Looking after yourself – a guest blog by Age UK
8 September 2017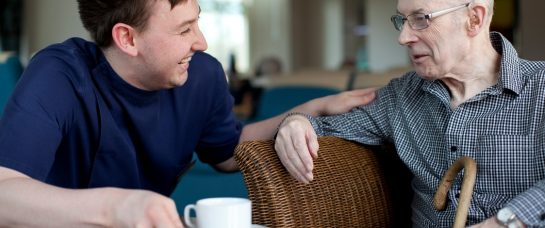 When you're caring for someone else, it's easy to overlook your own needs. But looking after your health and making time for yourself can help you feel better and cope better with your caring role.
Caring for someone with dementia may lead to feelings of guilt, sadness, confusion or anger. Unlike with other conditions, it can be difficult to communicate and share these feelings with someone with dementia, leaving you feeling very isolated. It's important to acknowledge these feelings, and remember that there's no right or wrong way to feel.
Carer's groups
Carers' groups can be a good way to get support from other carers who understand what you're going through and can share their own experiences. Most groups meet regularly and may offer speakers, leisure activities, trips and simply time to sit and chat. Ask your dementia adviser or social services about local groups or contact the Alzheimer's Society, Dementia UK or Carers UK for details.
Online groups
Online groups can also be a great source of support, especially if you can't get out and about or if you need someone to talk to when no-one else is around. Try the Talking Point forums on the Alzheimer's Society website or the message boards on the Carers UK website.
Memory cafes
Memory cafes also offer information and support in an informal setting where people with dementia and their carers can attend together. There are often professional carers available to talk to in confidence. To find out about local memory cafes, ask your dementia adviser, local Age UK or local Alzheimer's Society group.
Day centres
Some carers feel mixed emotions about day centres, but a variation in routine can benefit you both and allow you to have some time to yourself. There are some specialist dementia day care centres, while others may cater for people with mild dementia.
Day care can be difficult at first for the person with dementia to get used to. Talk to the staff if they seem upset or unhappy about going. And remember that different day centres offer different activities and environments.
Contact your local Age UK
Every area of the country does things differently, so services will differ. Some areas run courses on caring for someone with dementia that can give you information about dementia, tell you about your rights, and help you boost your confidence and recognise your limits. For more information visit www.ageuk.org.uk